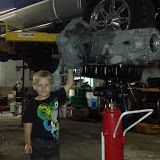 Let's face it – without a working transmission and drivetrain, your diesel vehicle is not going to get you far. The transmission, which is responsible for changing gears as you increase or decrease your vehicle's speed, is an extraordinarily complex piece of your vehicle, clocking in at just over 800 separate pieces. And it exists as a part of the drivetrain, which is made up of the transmission, the driveshaft, axle, and differential, and is responsible for transferring power from your engine to get your diesel vehicle's wheel rolling. Now that you know what functions these two systems have in moving your diesel vehicle, it is easy to see how important they are to the driveability of your diesel car or truck. So when you need service, repair, or even a rebuild of one of these important systems, it is important to trust this complicated and delicate work on transmission and drivetrain in Newburg, PA to the pros at Reiff Diesel Services. 
Drivetrain Service & Repair Newburg PA
Even in tough-as-nails diesel vehicles, eventually pieces of the drivetrain, like the gears and bearings, will wear out and break down. This can be avoided by having your drivetrain inspected regularly as part of normal preventative maintenance services and by making sure the gears and bearings are always lubricated with an appropriate amount of fluid. This fluid is usually replaced during the 30/60/90K mile services on most vehicles, but having it spot-checked every fourth oil change or so is never a bad idea. Problems can also occur with the driveshaft, which will present themselves as clunking noises while shifting, the car skating at higher speeds, and high-pitched whining noises while driving. If any of this sounds familiar, or you just want a quick drivetrain check to make sure everything is A-OK, the pros a Reiff Diesel Services can help out. And if there is a problem, we can repair and even rebuild your drivetrain as necessary.
Transmission Service & Repair Newburg PA
As part of the drivetrain, the transmission may not need the constant attention other parts of your diesel vehicle do, but it is extremely important to keep up with scheduled transmission services. You can check your owner's manual to see exactly when transmission services are required, and when they are, we can help. If you'd like your transmission to stand the test of time, we can perform a transmission flush, which is the process of removing and replacing the transmission fluid in the system. And if your transmission has issues? We can perform minor repairs to full transmission rebuilds on-site, so when you're in need of transmission service or repairs, Reiff Diesel Services can do it all.
Transmission & Drivetrain Service Newburg PA
When your transmission or drivetrain are in trouble, your diesel automobile is on its way to being sidelined. When that happens, get your diesel vehicle into the bays at Reiff Diesel Services in Newburg, PA. Our team can perform whatever services or repairs you may need, and we will have you back out on the road in no time. Make an appointment today!